Herd Management System & Software
The above mentioned terms go hand in hand. The need of
herd management system
is very clear:
a.
Stringent quarantine policy when fresh arrivals of cattle herds
b.
Timely vaccination of all the cattle
c.
Diseases free herd by adopting proper and complete health check up in a proper time interval
d.
Increasing the milk production
At Delmer
we provide a one stop shop i.e. All in one
Smart Scalable System
.
Here, we not only track a cow in the fields but support with a sophisticated system i.e. . With a single innovative tag, it supports a variety of features, from heat detection and feed behavior, to health and welfare monitoring. Continuous real-time unlimited range monitoring, provides decision making tools for both dairy and beef herds.
Our
herd management software
includes the below scalable software modules analyzing real-time behaviour:
a.
Increase heat detection rate
b.
Increase conception rate
c.
Increase pregnancy rate
d.
Early detection of health issues - alerts in real-time
e.
Decreased culling rates as a result of reproductive failure
f.
Feed behavior monitoring for better management
Cow Tracking System:
To keep an eye on all decisive factors cow tracker will help to combine all elements of your farming operations into one easy-to-use information network. No matter where you are.
Our product holds the below mentioned features:
1.
We provide unlimited range in any type of setting for dairy and beef cows .
2.
Tracker provides the real time monitoring alerts which are as follows:
a.
Heat
b.
Cystic Activity
c.
Abortion
d.
Lameness
e.
Calving
f.
Feed Monitoring
g.
Health
Model of the product: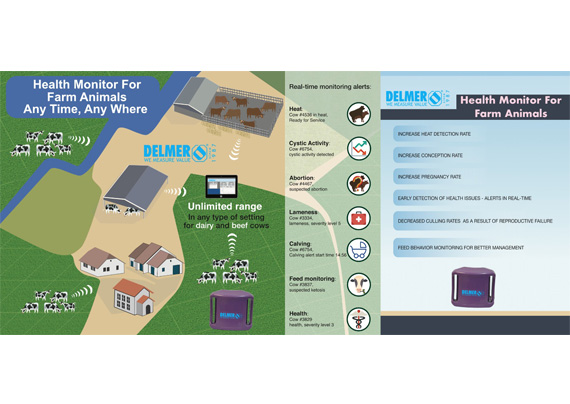 Cow Health Monitoring:
Milking quality will only be achieved and sustained if the health of the cattle's' (cow) is maintained.
Our software helps in achieving the same but also our other product (CLEANLINE, our specialized rage of detergents) gives you the best cleaning performance for the milking equipment.
Effective cleaning and sanitisation of all equipment that comes in contact with milk and consistent cleaning of the milking parlour environment are crucial steps in producing healthy and high-quality milk. The hygiene maintained by using these products in-turn helps in improving the health of the cows.