Make Your Silver And Golden Jewellery With Delmer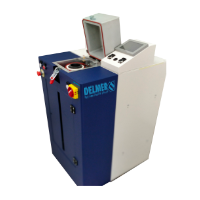 We here at
Delmer
have variety of machines according to your taste and needs. We have designed all the machines inna such way that it works simply and provides ease at using. Some of our specially designed and the most trending machines are :-
Induction Melting Furnace
They are at Mediocre frequency furnaces which emits high homogeneity of alloys because of stirring of the molten alloy. It is controlled and managed by Industry leading ARM-7 microcontroller. It has a main feature like. Programmable power And Automatic Fault detections display. Improved power factor and Fast melting feature.
Vacuum Casting & Melting
Delmer utilises it's graphical user interface with LCD display with store capacity up to 100 channels timing and working temperatures for all the work. The machine, on its own starts to melt, building a vacuum and cast into the cylinder following the data set.
Deburring and Finishing
Delmer builds vivid Kinds of machines for cleaning, degreasing the items and washing of the mechanical parts, hardware and equipment. It is a universal machine used for all the wet processes of finishing-Roughing, Sanding and Polishing on jewellery parts, all ferrous alloys especially stainless steel.
Graphite & Ceramic Consumables
The Ceramic Delmer Division is the production department of the company which works in coordination with the study work, design & development of parts for the machinery and technical ceramics and refractory ceramic fibre.
Precious Metal Refining
When you can get a revolutionary and patented electrolytic process to help in the technological development in jewellery industry. Here Gold alloys with gold content of minimum 55% are refined in a single step to fine gold with a purity level of 99.99%.
Furnaces For Heat Treatment
The annealing furnaces by Delmer are made by tubular frame and panels with Louvres for air exchange. Tubular system makes general maintenance interventions easier.
The
Delmer Group
has gained worldwide prominence in eWeighing which diverse sectors in the Weighing Technology and
Jewellery melting machines
. We have a Strong Base in the Electronics and Mechanics of Machine Making and we currently are working closely with Technology Partners from Europe and USA.
We believe in providing high end technology products at an achievable price range